Break the Ice Like a Networking Star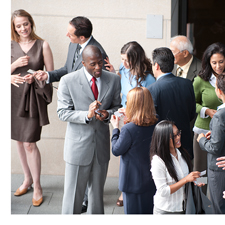 Opening up a dialogue at a networking event, and keeping your intentions for business development clear, is easier than it may appear. While the most effective opener is, in fact, saying "hi" and introducing yourself, you may need a conversation boost after that.

Keep things moving in the right direction with these inventive icebreakers:

Are you here with colleagues? This question keeps things business related and can help expand your business circle quickly. Follow up by asking about the different roles of the people with whom they're attending.

Are you here to meet anybody in particular? This question gives you the ability to exchange ideas about key prospects and business connections. It may also provide an opportunity for you to be a resource and make an introduction.

What have been your ah-ha moments so far? Discover what's resonating with other attendees and broaden your perspective in the process.

Are you a speaker or presenter? If the answer to this question is "yes," follow up by asking about the topic and why. If no, ask about which particular subjects he or she is interested in.

The W's and the H. Never underestimate the power of the classic questions. Once you make introductions and find out more about the people you are talking with, be prepared to dig deeper. Find out more details about what their job entails, why they chose that profession or company, where they got started, when they found the greatest success and how they do what they do.

As always, follow up with new contacts after an event to keep your new business connections more organic and open for long-term communication.
Sources: The Muse, HubSpot